Nutrition for Vegan and Vegetarian Dancers
The emergence of "plant-based" lifestyles is a trending topic across several industries. In regards to diet, reducing our consumption of animal products promotes environmental sustainability and improves animal welfare.
According to the Academy of Nutrition and Dietetics, a well-planned vegan and/or vegetarian diet is able to provide health benefits at any life stage. The same holds true for athletes. But with the omittance of animal products like meat, seafood, eggs, and dairy comes a concern of nutrient availability. Animal proteins are considered "complete," providing all essential amino acids needed for muscle building. Animal foods are also rich in a variety of vitamins and minerals. Therefore, any dancer who follows a vegan diet should do so with proper planning that is provided by a licensed professional, such as Registered Dietitian Nutritionist.
Many dancers turn to a vegan diet for reasons like ethics, morals, religion, and/or environmental sustainability. If this is the case, dancers should focus on consuming abundance and variety, two important factors that allow a plant-based vegan diet to support a dancer's needs. On the contrary, if choosing to follow a vegan diet for reasons of weight loss, "health," and/or for the purpose of manipulating their body shape/weight/size, then it's encouraged that a dancer reassesses their intentions. An inclusive approach without food rules and restrictions is encouraged! If you're unsure whether or not your choice to be vegan stems from restrictive rules, then read this article.
We can all agree that adding more plants to our plate comes with a spectrum of benefits. And with a well-planned menu, all essential nutrients can be met through the inclusion of a variety of vegetables, fruits, whole grains, legumes, soy products, nuts, and seeds (1). To add more abundance to your day's menu, let's look at a few nutrients to focus on: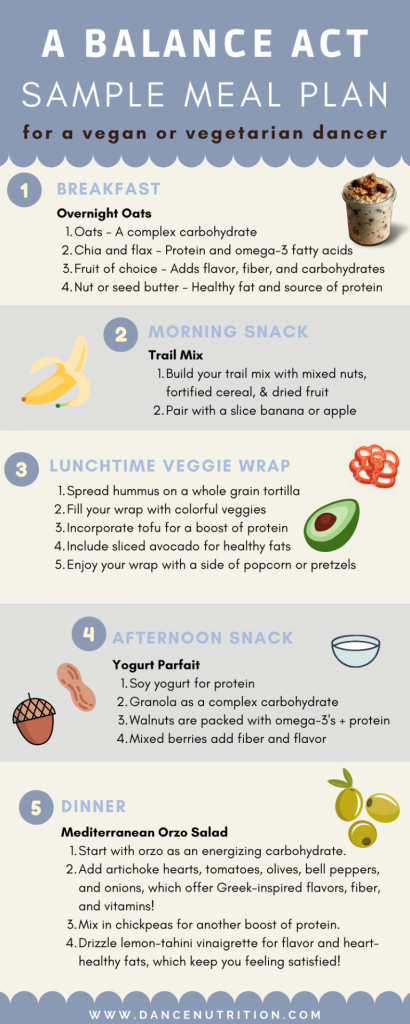 Protein
The benefit of any food trend is the increased availability of said food. In the case of plant-based proteins, today's food landscape provides an abundance of high-quality options that don't break the bank. Pseudo-cereals like quinoa, ancient grains like farro and amaranth, along with beans, legumes, nuts, and seeds offer all essential amino acids when eaten in abundance and variety. Here are a few additional plant-based sources of protein:
Edamame
Buckwheat
Pumpkin seeds
Chickpeas (& hummus!)
Almonds
Hemp seeds
Chia seeds
Legumes-based pasta
Sunflower seed butter
Plant-based yogurts (like soy or almond milk)
Calcium and Vitamin D
These nutrients work together to strengthen bone tissue and stimulate muscle function. Since dairy is a common source of calcium and vitamin D, it's important to add other plant-based foods that are rich in these nutrients. When our diet lacks these vitamin-containing foods, the body pulls calcium from our bones to use for other processes.
Soy is a great source of calcium. Incorporate soy-based items like soy-milk products, tofu, and miso. Leafy greens, squash, figs, flax, chia, and white beans are also abundant in this essential mineral.
Ten to fifteen minutes of sunlight per day will synthesize the active form of Vitamin D in our skin. However, most of us lack the ability to get this much-needed sunshine, especially when dancing indoors during the gloomy winter months. When the sun's rays are not out; try mushrooms with dinner or add a fortified breakfast cereal to your trail mix.
Iron
This mineral is found in red blood cells, which carry oxygen from the lungs to the cells. Because of this, iron is most abundant in animal meats. Iron keeps our brain alert and body energized. Incorporating Iron in the diet is essential, especially for females who lose blood through monthly menstruation.
Iron from food comes in two forms: heme and non-heme. Heme is found only in animal proteins whereas non-heme iron is found in plant foods like whole grains, nuts, seeds, legumes, and leafy greens. To sneak more iron into your plant-based menu, sauté vegetables, tofu, or other ingredients in a cast-iron skill. You can also add a source of vitamin C to your meals to increase your body's absorption of non-heme iron. Squeeze lemon on dishes and add tomatoes to meals. Lastly, avoid drinking excessive amounts of tea and coffee with iron-rich meals as compounds found in these beverages can block iron absorption (1).
Vitamin B12
Vitamin B12 is the only nutrient that is not naturally occurring in plant-based foods. Typically, people consume enough B12 when eating a varied diet that includes animal proteins. Luckily, the liver is able to store a year's worth of B12 even when animal proteins are lacking. This allows for multiple years to pass before symptoms of a B12 deficiency begin to manifest (1). In addition to fortified cereals, nutritional yeast is a great source of B12. As a cheese-flavored seasoning, add nutritional yeast to soups, salads, pasta dishes, and more.
Round out your plant-based diet with a diverse selection of whole foods to support your overall health and dance potential. When planning meals and snacks, be sure to include a variety of colorful fruits and veggies to provide an adequate source of all vitamins and minerals. If concerned about deficiencies, consult with a licensed medical professional prior to choosing a nutritional supplement. Additional resources can be downloaded to further help you build a balanced plant-based meal lifestyle.
---
Resources
Position of the Academy of Nutrition and Dietetics: Vegetarian Diets https://www.eatrightpro.org/~/media/eatrightpro%20files/practice/position%20and%20practice%20papers/position%20papers/vegetarian-diet.ashx