Old-school body ideals that are rooted in white elitism, have, unfortunately, formulated what we know to be the "aesthetic" of dance. What is assumed as "ideal" often involves a cluster of privileges surrounding diet and body. My personal history of aiming for these ideals landed me in burnout; hence the reason for everything I do at To The Pointe Nutrition.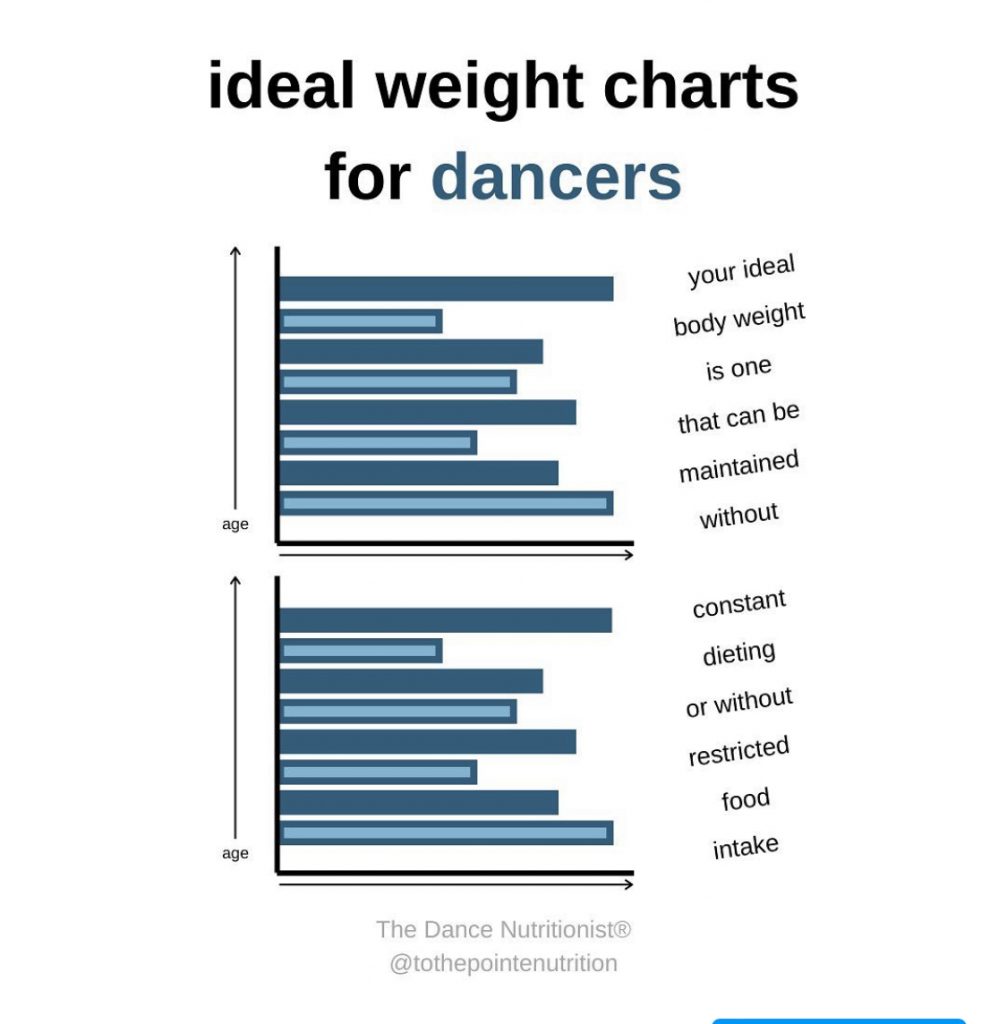 But thankfully, this aesthetic, which for decades, has arguably defined a "ballet body" is finally getting the opposition it deserves as high-profile dancers speak out against it. So when the title, "What Is A Ballet Body?" popped into my feed, I immediately clicked to read.
The article delivers a lot: shedding hope upon the industry moving away from a "single standard" and opening arms to "acceptable" post-pandemic "body changes." The best part? It exemplifies high-level dancers who are challenging those in power. It's a promising testament to inspire change for other dancers to speak out against harmful messaging.
But amidst this hope lurks some very concerning content. Enough to have me, someone who is considered a "licensed expert" with years of building body image resilience (but not immunity) to the harmful messaging of diet culture, feeling uneased and, well, triggered. It has taken me years to find peace and neutrality with my body, let alone continue to dance with it. So when such content has the ability to undermine even the most resilient of clinicians, I started thinking: what about the dancers who aren't yet resilient?
I don't blame anyone involved in the article. In fact, I am incredibly thankful for each of the brave dancers mentioned, those who continue to use their platforms to ignite change. I'm also thankful for Gia Kourlas, the journalist who brings this insight to a platform as worldwide as The New York Times. From measuring body weights to casting around costume sizes, it's clear that the industry has a long way to go. And just as I mentioned in my review of Tiny Pretty Things (you can read that here), sometimes it takes a bit of controversy to get a much-needed conversation started.
What about the dancers who have not yet come to terms with their current bodies and selves as being enough?
But I'm also confident that a new open-armed culture will not emerge post-COVID if we do not begin to educate all parties involved about the potential for harm. It is therefore always encouraged that medical professionals, especially those working in the field of eating disorders and disordered eating, be consulted for expert review prior to the publication of such content.
Are ballet body standards really changing?
In a recent Dance Magazine article that I shared my insights in, Garnett Henderson says "For body standards to meaningfully evolve, directors must take an active stance and cast dancers who break the current mold." What might need to happen first is a shift in leadership. In the meantime, dancers will need to take matters into their own hands.
What Is Body Image Resilience?
A recent Instagram poll proved that my followers are feeling more self-doubt than usual. These feelings are easily exacerbated by triggering content, which is, unfortunately, always around us. When working with dancers in The Healthy Dancer program, we utilize body image resilience to help dismantle the inevitable: triggering comments.
Body image resilience, like body neutrality, is a helpful tool that can be utilized throughout one's journey towards body acceptance. Building resilience towards the inevitable: triggering messages surrounding body image and diet culture. But it's important to understand that while these tools (body neutrality and body image resilience) might be helpful at the individual level, they aren't enough to dismantle the institutional weight bias and systemic oppression of those in larger bodies. To learn more about the harmful implications of diet culture and weight stigma, read this article.
A Dancer's Guide To Body Image Resilience
For the purpose of my article, I spoke with Dr. Rachel Goldman, a licensed psychologist in New York with expertise in eating behaviors and perfectionism. "In regards to triggering language, we often react instead of respond… but we can build a toolbox to respond in a more productive manner."
Triggers
A "trigger" is often described as an experience, a statement, a memory, or a sensation that causes an intense emotional reaction, which can spiral into a cascade of second-guessing: "Am I enough?" "Is what I'm doing enough?" "How can I do more?" "What do I need to do more?"
Triggers are usually discussed in the context of eating disorder treatment and those in recovery are often protected against them. But if you're not in treatment, and if your eating habits land on the spectrum of disordered, (which for many dancers, they do), then you can feel triggered at any time. All it takes is some WiFi, a social media feed, and well, a New York Times article about dancers' bodies.
Since we cannot fully protect ourselves against triggers, we must challenge their roots and unlearn their harm. I've previously discussed how to handle food- and body- comments in this article and in this one. But today, I'm offering you a tool to expose and deconstruct the very triggers that we fear in order to best respond and move forward.
1: Identify The Trigger
Triggers can hide behind the powerful words of even the most trusted people. Triggers can also be unintentional. What triggers one dancer might not trigger another dancer. If you're feeling emotions like unworthiness, anxiety, sadness, or self-doubt, then ask yourself: what is causing me to feel this way?
Becoming mindfully aware of your triggers is the first step to building resilience against them. If you cannot pinpoint the trigger, then start with the thought or the feeling. From there, think about what sparked that thought or feeling. Was it a comment directed to you? Perhaps it was a comment not directed to you, but overheard? Was it hearing about another dancer's experience (like, for example, their recent weight gain or weight loss)? I polled my followers on Instagram and compiled their most common triggers. Here's what we rounded up:
Calorie counts
Body Labels ("dance body," "ballet body")
Body comments ("bigger," "smaller")
Costume fittings and costume sizes
Diet talk
Specific body weights/numbers
Portion sizes
Clothing sizes (numbers)
"Healthy" eating
"Clean" eating
And specific statements, like:
"You look well/unwell."
"The quarantine 15"
"[Insert name here] lost X pounds!"
"[Insert name here] gained X pounds!"
"Getting into shape" or "staying fit"
"You're not going to eat all of that, are you?"
"[Insert name] looks like a dancer!"
"Your [insert body part here] look(s) toned!"
"Eat in moderation!"
"Careful… that's high in fat/sugar!"
"That's unhealthy, isn't it?"
"Your body looks [insert adjective here]!"
Once you've identified the trigger, utilize your workbook (download below) to jot them down in the space provided.
2: Validate Your Feelings
Given the culture, it is unfortunately common to feel upset in these instances. By now, your emotions are likely escalating as feelings of self-consciousness and self-judgment overwhelm even the most resilient of dancers. But before succumbing to these emotions, take a deep breath and decipher the origins of the trigger. According to Goldman, "we need to remind ourselves to pause, breathe, and then try to respond, instead of reacting."
3: Neutralize and Detangle Fact From Fiction
Educate yourself about areas of potential insecurities. Goldman says, "we can remind ourselves to focus on what's in our control… this is our response to the situation." Here is a list of articles that dive into the most common dancer insecurities. Read through them to gain competence in the area in which you feel can use some work.
Then, utilize your worksheet to jot down some thoughts about the origins of the trigger.
Reassess and Diminish The Trigger
Once you've gained competence in your areas of insecurity, start to diminish the trigger. This might be tough, especially for dancers struggling with body dysmorphia. Remember, our thoughts aren't always the reality. "We all have unhelpful thoughts… we need to acknowledge this and examine the evidence to challenge them," says Goldman.
Here's a trick: assess the trigger's impact on each realm of your well-being: physical, emotional, and mental well-being. Goldman suggests, "utilize self-talk… while it's human nature to compare, remind yourself that each individual is different." For example, hearing the trigger: "[insert name here] looks like they lost weight!" can spark one to turn to restrictive eating as a means to manipulate their weight. But we know, [detangle fact from fiction] that restrictive eating actually leads to mental burnout, physical fatigue, and emotional isolation. Relying on positive affirmations will help (you can find my favorites here).
5: Speak Up and Divert Yourself
Now that you've identified, deconstructed, and unraveled the trigger, it's time to take action, shift your attention, and move forward. First and foremost, and if you feel safe, address the triggering comment or action. If you're uncomfortable speaking to the original source of the trigger, then turn to a trusted individual for help. This might mean getting a parent, a therapist, a friend, and/or a teacher involved.
Once you've taken action, turn to trusted activities that support your realistic and positive goals. Self-care looks different for everyone, but a few examples include listening to music, reading a book, or journaling. If your social media feed triggers you, then you'll need to detox your newsfeed: unfollow triggering accounts. You'll also want to review these tips about how to end the comparison game.
According to Dr. Goldman, "build a toolbox that is readily available when you need it… Some situations need different coping tools and/or a combination of tools… having a variety is key." Subtle suggestion: add today's worksheet to your toolbox and check out Dr. Goldman's Instagram for ongoing guidance.
Ready to challenge your triggers? Click here to read the original NY Times article, "What Is A Ballet Body?" (*trigger warning)
---