What is an ideal weight chart for a dancer?
Some ballet schools rely on charting systems to assess the body weights of their dancers. These assessments are often used to determine performance potential. However, ideal height-and-weight charts are outdated, inaccurate, not supported by evidential data, and do not reflect a dancer's capabilities on stage.
Ideal Height & Weight Chart for Professional and Aspiring Dancers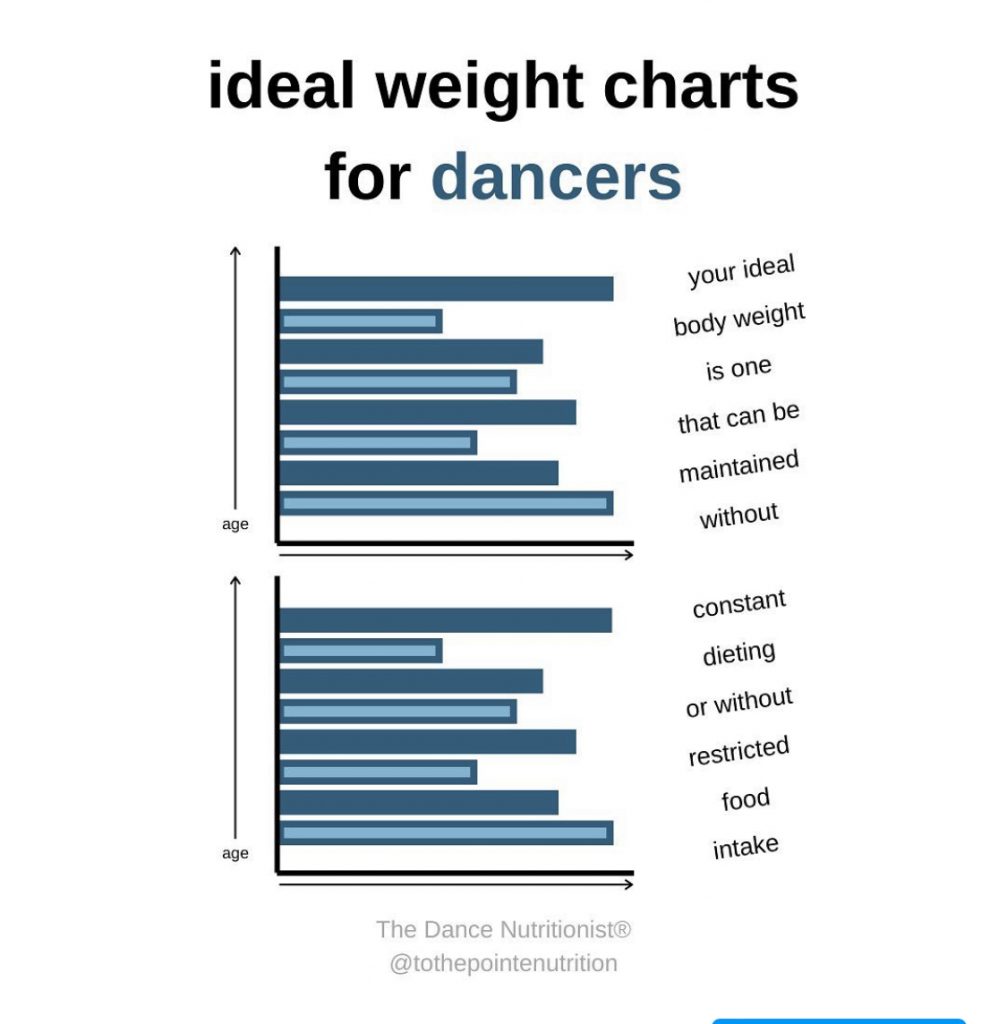 Is there an ideal body weight for a dancer?
In a previous article for Dance Magazine, I dispel the confusion around "ideal body weights" and why such ideals cannot be used to assess both the health and performance potential of a dancer. A dancer's "ideal weight" is "…not the weight that requires restrictive meal plans, calorie counting and obsessive exercise routines… [but rather] one that can be maintained without dieting. It fuels performance and makes room for all foods." To learn more about what a "healthy" weight is, read this article.
The risks of ideal weight charts for dancers
Using a charting system such as ideal weight charts to determine a dancer's performance potential is extremely harmful. Dancers have a three times higher risk of suffering from an eating disorder when compared to the general population. Attempting to control one's body weight leads us to an uphill battle against biology. Additionally, weight loss methods and encouragement of one "ideal" feeds into a culture of systemic oppression and weight bias (a topic I talk more about here).
What About Partnering?
Partnering for dancers ultimately relies on inner strength, along with your ability to transfer weight symbiotically with your partner. Bodyweight is only a fraction of the equation and not one that needs to be relied upon for comparison.
Audition Weight Requirements?
Red flag! A dancer's ability to transcend an audience is WAY more informative than any number! This is especially true because, given the possible variations in body composition (as I mentioned earlier), body weight is incredibly variable. Studios and companies, if you want your dancers to flourish on stage, then read this article ASAP.
Set Point Weight
I've previously discussed how to define a healthy weight for dancers. In regard to your set point, it's the weight range at which your body feels most comfortable. It's nearly impossible to identify the exact weight at which your body feels most comfortable. This is especially true for anyone still growing into their adult bodies. It's normal and healthy for weights to fluctuate and change. Attempting to control that number using restrictive eating and/or over-exercising is discouraged. While we cannot identify an exact number, we can consider classic signs to help determine whether you're NOT at your set point weight:
Are you struggling to recognize hunger cues during the day?
Do you feel like you cycle between under-eating & "over"eating?
Are you continuously skipping meals or snacks?
Are you following "clean" eating plans?
Is a body scale dictating how much you eat in a day?
Has your period stopped or become very irregular?
Do you overthink your meals so they fit into a regimented eating plan?
Are you overexercising to "burn off" your food?
Are you overexercising in preparation for a big meal?
Are you struggling with emotional eating and eating to cope with emotions like stress & anxiety?
How do I get back to my set point?
When you're at your set point, you:
Am I now feeling and responding to hunger cues?
On busy dance days, am I prioritizing a flexible meal plan with multiple snacks because I know that my hunger cues might be diminished and unreliable?
Do I feel like I'm no longer trying to micromanage my weight?
Am I leaving most meals feeling comfortably full?
Am I moving my body in a way that doesn't feel excessive or compulsive?
To do this, follow these steps:
Eating enough (you may need some help from a dietitian with this!)
Eat regularly. Start with a flexible meal plan that includes at least 3 meals and 2-3 snacks per day.
Abandon the scale. Yep! Scale weights are unreliable and do not reflect the entire picture of who you are as a human and as a dancer.
Practice body attunement
Challenge food rules and implicit weight bias.
How can redefine the "ideal ballet body?"
The shift needs to happen on an individual, interpersonal, and systemic level. On the systemic level, encourage a shift in the industry and when a safe opportunity presents itself, challenge ideal standards. Interpersonally, reassess your personal bias and explore diversity among your social feed (follow me for daily tips!). You can also increase your awareness of the harmful impact of diet culture and weight stigma (more on this here). And last, as an individual, consider reputable programs and board-certified professionals for support. To learn more about how you can redefine your personal ideal and become The Healthy Dancer, check out these resources: