Has your dance teacher suggested that you cross-train?  Perhaps, it was a suggestion to strength train? With a rigorous dance schedule, this may seem like a daunting task. This article teaches dancers about building a sustainable cross-training routine to enhance their dance training.
What is Cross-Training?
Cross-training involves the intentional act of engaging in multiple (usually 2 or more) sports to enhance one's performance in their main sport. Here's an example:
Runners are often encouraged to cross-train. While running prioritizes muscular endurance, running also requires muscular strength and strong bones. So, it's beneficial for runners to build strength so their muscles fatigue slower, and their bones do not weary and cause common injuries like shin splints.
The Benefits of Cross-Training for Dancers
We can consider the benefits of cross-training by examining all parts of the typical dance class. Think about it: cardio and endurance training are given within the structure of dance class, balances are practiced throughout, agility happens in center combinations, and flexibility is practiced during a stretch. Consider these:
Flexibility/mobility training promotes beautiful extensions
Strength training supports flexibility and ensures the proper muscles are engaged to prevent injury and propel you onto pointe.
Cardio/endurance training provides the ability to dance for long periods of time without getting winded
Agility training allows you to move quickly and easily – which often is taught from an early point in dance training.
Balance/stability training protects against injury, promotes safety when en pointe, and provides beautiful balance during center exercises.
But there's one aspect of training that might be missed.
Strength Training for Dancers
Strength training may be done in multiple forms but generally, it includes some form of resistance applied to your body. This encourages your muscles to engage with the added force which leads to increased strength. Contrary to popular belief, this does not just mean weights. It could also be:
Kettlebells
Resistance Loops
Resistance Bands
Bodyweight
Barbells
Suspension Weight Training (TRX)
Medicine Balls
Slam Balls
BOSU Balls
BOSU Balance Trainer
Resistance Sliders
And of course the infamous exercise machines and dumbbells
Why should dancers incorporate strength training?
Injuries in young (and even mature) dancers are VERY common! First and foremost, strength training is injury prevention. Many cases of tendonitis, popping, and pinching may be prevented with strength training. Cross-training teaches dancers how to engage the proper muscles to execute a movement. With this training comes the ability to move with more care and intentionality.
Second, cross-training enhances overall performance! Is getting up en pointe a struggle? Are balances a challenge? Are you successful with splits but unsuccessful at getting your leg above 90 degrees? Or, are you lacking core engagement during class? If you answered yes to any of these, then it's time to consider strength training!
Developing a Cross-Training routine for Dance
Here are four simple steps to create a sustainable cross-training routine to enhance your dance training.
Moderation– Consider your dance schedule. Does it look like several hours of dance every day? Or maybe classes a couple of times per week? How often and for how long your strength train will be dependent on your current dance schedule.
Consistency– This doesn't necessarily mean that you're doing it every day. It does mean, however, that you are maintaining the integrity of your plan. Is that just twice per week for 20 minutes? Then be consistent with that! Remember small strides, great distances.
Joyful Movement– Please do not force yourself to exercise in ways you hate. Pilates, Barre, Strength-Based Yoga, or Regular ole Strength Training with Dance Focused Moves. Try out a handful of these and see which ones you genuinely enjoy and stick with that!
Progression– Consistently challenging your body's limits promotes increases in strength. This doesn't mean that you're working yourself to the breaking point. Your workout should not feel impossible, but also, it doesn't have to be effortless. Consider somewhere in the middle. Progression of exercises will ensure that your bones and muscles continue to be challenged. Here is an example of a plank progression:

Plank on wall
Plank on chair
Plank with arms fully extended
Plank on elbows
Plank on Bosu Ball
Side Plank
From here, I encourage you to add in strength repetitions like a leg extension from your plank, driving the knee in, then bringing it up to a down arabesque, or in a side plank bringing the leg to passé, then extending to the second position and close.
Cross-Training Example Schedules
Below, I've included a schedule to be used as a framework for dancing 3x per week and dancing 5x per week.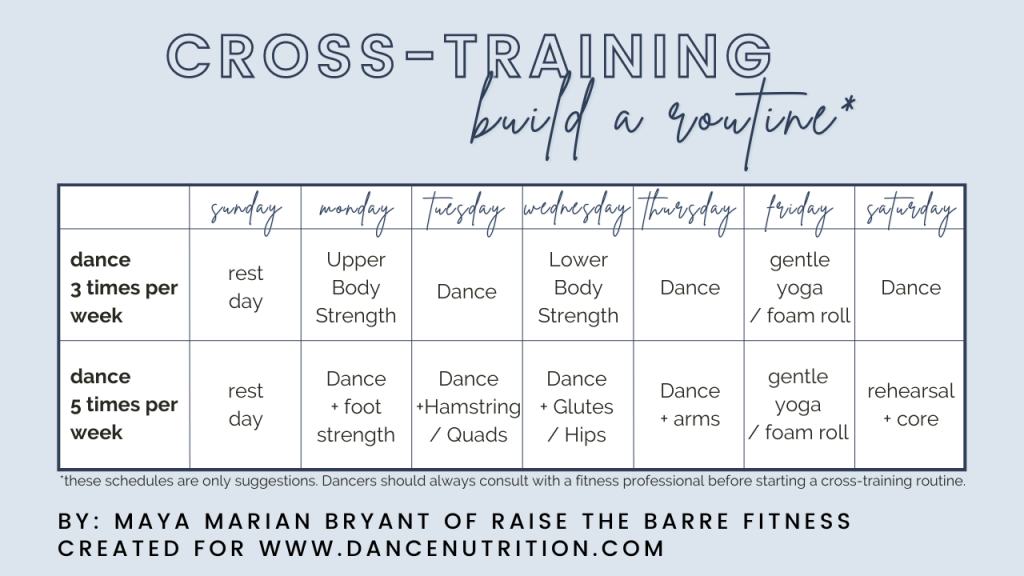 Note: Especially if you are training daily, these workouts do not need to be lengthy. An extra 10-20 minutes before class would be incredibly effective. Heading to ballet class early to do some clamshells, glute bridges, and planks will help to warm up your core. Those are the simple, yet effective ways you can add to strength training.
When is the best time for a dancer to strength train?
This is individualized and will take some experimentation. If you're new to strength training, however, I'd recommend moderate amounts of strength training BEFORE class. Doing this will promote proper engagement of your muscles and help to warm you up in preparation for class. After class, you might be fatigued and therefore execute movements improperly.
Remember, building a cross-training routine does not have to be complicated. In fact, it will help make your dancing less complicated. Imagine being able to maintain balances for long periods of time, not huffing and puffing after center combinations, and having beautiful extensions well supported by muscles instead of clenching onto tendons. Simply incorporating strength training 10-20 minutes a couple of times per week, especially just starting out would be sufficient.
Featured post by Maya Marian Bryant, MPH Candidate, NASM-CPT, Certified Barre Instructor. Founder & CEO of Raise The Barre Fitness